Summer Reading Programs

Now through August 11
For Children: Color Your World
For Adults and Teens: Build a Better World.
Earn tickets for our prize basket raffle by reading books and completing local activities. For more info, inquire at the circulation desk or call us at 324-4714

Library Hours
10–8 Monday—Thursday
10–5 Friday
10–4 Saturday
Coloring Calm
Goodall Library's coloring workshop for adults, continues on
Mondays, July 24, August 28, and September
18 from 6:00-7:30 PM
Coloring sheets and supplies will be provided (or you can bring your own). Color in a relaxing, group setting with music and refreshments provided.
Knitting and Needle Craft
Thursday, July 6th, August 3rd, and September 7th at 6:30 PM
Attention knitters and other needle crafters: there's a new group forming at the library and we'd love to have you join us. It's the perfect time to bring that project you've been working on and enjoy the company of others in a relaxed setting. Refreshments are provided. We hope to see you there!
Meditation Series
Whether you're a beginner or looking to deepen your practice, this series is for you.

Cindy Simon, M.A., NCC, RMT will lead the group in relieving anxiety, anger and depression by learning to live in the present moment. Enjoy deep stillness and quiet and rid your mind of negative chatter. Live with more acceptance, letting go, happiness, and gratitude.
Mondays, June 19, August 21, and September 18 at 4 PM
Learn how to bring meditation into your everyday life. Join us, and discover the difference it will make.
Library Location
Corner of Main and Elm Streets in downtown Sanford. Parking and entrance on Elm St.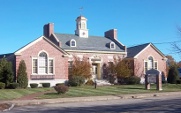 Top of Page | Last update: 27 Jun 2017