Hoopla Digital

Use your Portland Library card to stream movies,
TV shows, music, and audiobooks. Apply at Goodall Library.
Broadband Technology Resources
Job hunting? Starting a business? In school?
Would you like to improve your digital literacy?
Maine State Library Digital Learning offers an array of sites designed to enhance online skills.
Featured Site: LearningExpress has computer and software tutorials, GED test prep, career certification, and job search skills.
Food for Fines in October
Goodall Library is offering fine amnesty for the month of October. We will erase your fines when you donate non-perishable food items.
This event is held in conjunction with our annual pre-holiday food drive. The donations will go to the York County Food Pantry.
Meet the Author
Thursday, October 30 at 6:30 PM
Goodall Library is hosting a book signing and reading by Virginia Arbuckle-Spencer on her debut memoir Girl on the Beach. Virginia's memoir chronicles her journey through life, how she left the advantages and comforts of home to work and travel. Please join us for an inspiring & fascinating evening as we hear about her life discoveries and emotions. More...

Books and Cooks - A Great Combination
HOT OFF THE PRESSES
A NEW cookbook of recipes submitted by Goodall Library staff and patrons.
Pick up a copy at the circulation desk for $10. Proceeds from cookbook sales will help fund programming at the library.
Writing is Discovery: Writing Workshop
Six Saturdays: October 4 – November 8 from 10:30 to 12
Local author Marc Widershien will lead a six-week writing workshop at Goodall Library, with emphasis (but not exclusively) on memoirs, biography, and autobiography. The group is open to all those who wish to acquire new writing skills or improve on the ones they already have.
The curriculum includes "free-writing" (or "stream-of-consciousness"), remembered events, memory books, group discussions, self-editing, exercises on sensory detail, and handouts with examples of noted writers and artists. The objective is the enjoyment of language and its awesome gifts.
Registration is required. FMI call Marc Widershien at 636-0595.
Art at the Library
Goodall Library is happy to announce the art exhibit of Maurice (Moe) Auger through December 31. The series on display is titled Windows, covering a span of ten years as a result of his interest in old wood architecture. More...
Hours
10–8 Monday—Thursday
10–5 Friday
10–4 Saturday
Location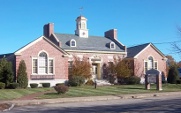 Corner of Main and Elm Streets in downtown Sanford. Parking and entrance on Elm. Map and directions...
Top of Page | Last update: 22 Oct 2014