Museum Passes
Library membership includes use of our family museum passes. Reservation is required (call the library for details).
Local Newspapers Digital Archive
Coloring for Relaxation
Coloring Calm, Goodall Library's coloring workshop for adults, continues on
Wednesday September 28th at 6:00 PM
in the Thornburg Community Room.
Coloring sheets and supplies will be provided (or you can bring your own). Color in a relaxing, group setting with music and refreshments provided.
T'ai Chi Walking
Thursday September 29th from 4:00-5:00 PM
Jo-Anne Masure will lead an introductory class in T'ai Chi Walking at the Goodall Library. What is T'ai Chi walking and what are its benefits? Click here to find out!
Library Hours
10–8 Monday—Thursday
10–5 Friday
10–4 Saturday
Art at the Library
Landscape oil paintings of Sanford native Pauline Bergeron.
Broadband Technology Resources
Job hunting? Starting a business? In school? Would you like to improve your digital literacy?
Maine State Library Digital Learning offers an array of sites designed to enhance online skills.
Featured Site: LearningExpress has computer and software tutorials, GED test prep, career certification, and job search skills.
Library Location
Corner of Main and Elm Streets in downtown Sanford. Parking and entrance on Elm St.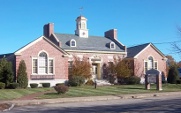 Top of Page | Last update: 20 Sep 2016