Museum Passes
Library membership includes use of our family museum passes. Reservation is required (call the library for details).
Summer Reading Club for Children

READING IS SO DELICIOUS!
Children up to age 13 are encouraged to join this free, fun & noncompetitive summer reading program.
June 13th through August 19th.
Summer Reading Program for Adults and Teens
Goodall Library's sixth annual Adult/Young-Adult Summer Reading Program ... GREAT ADVENTURES ... runs from June 13th to August 19th.
Play our reader's Bingo for the opportunity to earn raffle tickets to our grand prize, including a Kindle Fire tablet. Click for details...
Sponsored by Moe's Italian Sandwiches and Rock Lobster Gourment Popcorn.
Coloring for Relaxation
Coloring Calm, Goodall Library's coloring workshop for adults, continues on
Wednesday August 17th from 6:00-7:30 PM
in the Thornburg Community Room.
Coloring sheets and supplies will be provided (or you can bring your own). Color in a relaxing, group setting with music and refreshments provided.
Broadband Technology Resources
Job hunting? Starting a business? In school? Would you like to improve your digital literacy?
Maine State Library Digital Learning offers an array of sites designed to enhance online skills.
Featured Site: LearningExpress has computer and software tutorials, GED test prep, career certification, and job search skills.
Library Hours
10–8 Monday—Thursday
10–5 Friday
10–4 Saturday
Board Members Wanted

Do you believe that a public library is vital to the health and well-being of the community?
Are you passionate about learning, committed to equality, fairness and transparency, and willing to work with others to achieve goals?
The library Board of Trustees is looking for you! Read more...
Local Newspapers Digital Archive
Digital scans of the Springvale Advocate and Sanford Tribune from 1895 to 1941
Full-text search capability.
A joint project of Goodall and Springvale libraries.
Library Location
Corner of Main and Elm Streets in downtown Sanford. Parking and entrance on Elm St.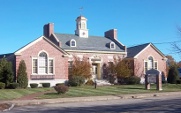 Top of Page | Last update: 23 Jul 2016