Coloring Calm
Goodall Library's coloring workshop for adults, continues on
Monday, December 18 at 6:00
Coloring sheets and supplies will be provided (or you can bring your own). Color in a relaxing, group setting with music and refreshments provided.
Library Location
Corner of Main and Elm Streets in downtown Sanford Maine. Parking and entrance on Elm St.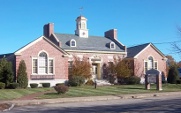 Program Note
December 13th: Today's Dinosaur "STEAM" Story Time for children has been cancelled.
Board Members Wanted

Do you believe that a public library is vital to the health and well-being of the community?
Are you passionate about learning, committed to equality, fairness and transparency, and willing to work with others to achieve goals?
The library Board of Trustees is looking for you! Read more...
Library Hours
Closed Saturday, December 23
and Monday, December 25
Regular Hours:
10–8 Monday—Thursday
10–5 Friday
10–4 Saturday
Top of Page | Last update: 13 Dec 2017