Carl Johnson Baseball Scribe
Carl H. Johnson will be discussing and signing copies of his new book, The Baseball Buff's Bathroom Book at the Goodall Library on September 1, starting at 6:00 PM.
The book is a collection of articles about major players, games, series and other events in major league baseball, both historical and contemporary. It contains entertaining and informative stories about the Gas House Gang, Babe Ruth, the 2004 Red Sox comeback, the Williams Shift, Ichiro Suzuki and many more.
Museum Passes
Library membership includes use of our family museum passes. Reservation is required (call the library for details).
Local Newspapers Digital Archive
Walking Meditation
Monday, September 19 at 4:00 PM
Cindy Simon, M.A., NCC, RMT, and Healthy Lifestyle Educator, conducts this class which incorporates stretching, creative movement, light body strengthening exercises, breathing tips, and relaxation. Read more...
Broadband Technology Resources
Job hunting? Starting a business? In school? Would you like to improve your digital literacy?
Maine State Library Digital Learning offers an array of sites designed to enhance online skills.
Featured Site: LearningExpress has computer and software tutorials, GED test prep, career certification, and job search skills.
Library Hours

CLOSED Monday, September 5th for Labor Day.
10–8 Monday—Thursday
10–5 Friday
10–4 Saturday
Children's Story TImes
NOTE: There will be no children's STORY TIMES August 22nd through 30th.
Board Members Wanted

Do you believe that a public library is vital to the health and well-being of the community?
Are you passionate about learning, committed to equality, fairness and transparency, and willing to work with others to achieve goals?
The library Board of Trustees is looking for you! Read more...
Library Location
Corner of Main and Elm Streets in downtown Sanford. Parking and entrance on Elm St.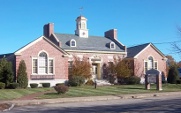 Top of Page | Last update: 29 Aug 2016