April 1st - 30th ~
Gift Basket Raffle

Lives Change @ Your Library! Celebrating National Library Week (and continuing for the entire month of Apri
l) our popular gift basket raffle will include a cozy fleece throw and mugs, along with a variety of gift certificates from local businesses.
Buy a raffle ticket and support the library at the same time! Read more...
May 13th ~
Coyote: America's Songdog
You are invited to come along and learn of coyote's long history on the North American continent; coyote's relationship with the native peoples and the European Americans; coyote's place in Maine's ecosystem and coyote's relationship to us. Come learn coexistance skills that will enhance your life. Come hear the Songdog sing!
Maine conservation biologist Geri Vistein will present this fascinating program Tuesday, May 13 at 6:30 PM.
Hours
10–8 Monday—Thursday
10–5 Friday
10–4 Saturday
Location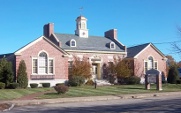 Corner of Main and Elm Streets in downtown Sanford. Parking and entrance on Elm. Map and directions...
Last update: 22 Apr 2014