AARP Tax-Aide
Mondays through April 9, 10:00 to 4:00
The library will host the AARP Tax-Aide, offering free, individualized tax preparation for low-income to moderate-income taxpayers – especially those 50 and older. Walk-ins welcome.
For more info, or to schedule an appointment, call 207.710.0979
Coloring Calm
Goodall Library's coloring workshop for adults, continues on
Mondays, February 26, March 26 and April 23 at 6:00
Coloring sheets and supplies will be provided (or you can bring your own). Color in a relaxing, group setting with music and refreshments provided.
Knitting and Needle Craft
Thursdays, March 1 and April 5 at 6:30
Attention knitters and other needle crafters: we'd love to have you join our needle crafters group the first Thursday of each month. It's the perfect time to bring that project you've been working on and enjoy the company of others in a relaxed setting. Refreshments are provided. We hope to see you there!
Board Members Wanted

Do you believe that a public library is vital to the health and well-being of the community?
Are you passionate about learning, committed to equality, fairness and transparency, and willing to work with others to achieve goals?
The library Board of Trustees is looking for you! Read more...
Table-Top Gaming

Saturdays, March 3rd and April 14th, 10:00 to 3:30

All experience levels are welcome. Covered drinks and outside food are welcome in the Community Room on gaming days.
Some of the games at the event will be: Forbidden Desert, Pandemic, Ticket to Ride, Zombie Dice, Munchkin, Qwirkle, Quartex, Race to the North Pole, Fluxx, Gingerdead House, Kingdomino, Eminent Domain, Carcassonne. Or bring your own to share with the group.
Seated Yoga and Creative Movement
Wednesdays, March 7 and April 4 at 6:30

Reduce stress and tension, aches and pains, and insomnia. Increase well-being, and tone your body. Come learn and practice stretches, yoga positions, tai chi exercises, and deep breathing while seated in a chair or standing (with a chair for support if needed).
Classes are led by Cindy Simon, M.A., NCC , RMT.
Library Hours
10–8 Monday—Thursday
10–5 Friday
10–4 Saturday
Location
Corner of Main and Elm Streets in downtown Sanford. Parking and entrance on Elm St.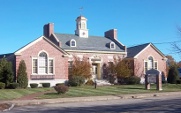 Top of Page | Last update: 20 Feb 2018