Events at Goodall Library

April 1st - 30th ~
Gift Basket Raffle
Lives Change @ Your Library! Celebrating National Library Week (and continuing for the entire month of April) our popular gift basket raffle will include a cozy fleece throw and mugs, along with a variety of gift certificates from local businesses. Buy a raffle ticket and support the library at same time!
April 1st - 19th ~
Children's Drawing and Coloring Contest
FOR CHILDREN AGES 4-12. There will be a contest starting April 1st: Draw or Color a Picture of Your Favorite Book. Read more...
Saturday, April 12 from 10:00 to 1:00 ~
Spring Fling Book Sale
There will be something for everyone, and bargains galore. Be sure to stop in and check it out.
Tuesday, April 15 at 6:30 PM ~
Identity Theft, Scams, and Fraud
Presented by the Better Business Bureau. Protect yourself with this valuable information, covering the most common scams currently circulating the community. Learn the "red flags" to watch out for, and precautionary tactics.
Thursday, April 17 from 10:00 to 11:30 AM ~
Technology Petting Zoo
A variety of devices will be available to examine and ask questions about: Nook SimpleTouch (e-reader), Kindle Fire (tablet), Kindle PaperWhite (e-reader), Apple iPad Mini (tablet), Nook HD+ (tablet), and Google Nexus (tablet). If you own a device and need tips on how to use it, feel free to bring it in. Space is limited - registration required (call 324-4714).
Hours
10–8 Monday—Thursday
10–5 Friday
10–4 Saturday
Location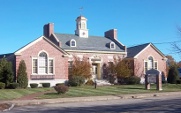 Corner of Main and Elm Streets in downtown Sanford. Parking and entrance on Elm. Map and directions...
Last update: 2 Apr 2014