Friday, August 22, 10 AM: Social Security Event
Elizabeth Newport of the Portland office of Social Security will be here to answer questions about Social Security and help anyone in setting up an online account on the my Social Security website.
Summer Reading Raffle Basket Winner
The winner of our Adult Summer Reading Program Reader's Basket is Julie Harding, a four-year resident of Sanford, and a Goodall Library member since day one! Her favorite new reading discovery of the summer was author Patricia Briggs. Moon Called is the first of the Mercy Thompson series, an urban fantasy with plenty of twists and turns.
Hours
CLOSED Monday, September 1 (Labor Day)

10–8 Monday—Thursday
10–5 Friday
10–4 Saturday
Location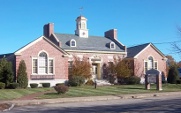 Corner of Main and Elm Streets in downtown Sanford. Parking and entrance on Elm. Map and directions...
Last update: 19 Aug 2014