Local Newspapers Digital Archive
Coloring for Relaxation
Coloring Calm, Goodall Library's coloring workshop for adults, continues through the Fall and early Winter seasons:
Wednesday, October 26th

Wednesday, November 30th
Wednesday, December 28th
in the Thornburg Community Room. All sessions begin at 6:00 PM
Coloring sheets and supplies will be provided (or you can bring your own). Color in a relaxing, group setting with music and refreshments provided.
Meditation Series
Relieve anxiety, anger and depression by learning to live in the present moment. Enjoy deep stillness and quiet and rid your mind of negative chatter. Live with more acceptance, letting go, happiness, and gratitude.
Whether you're a beginner or looking to deepen your practice, you are welcome to join Cindy Simon, MA, NCC, RM at one (or more) of three sessions:
Monday, October 17th

Monday, November 21st

Monday, December 19th
Time: 4:00-5:00 PM
Place: Thornburg Community Room, Goodall Library
Library Hours
10–8 Monday—Thursday
10–5 Friday
10–4 Saturday
Library Location
Corner of Main and Elm Streets in downtown Sanford. Parking and entrance on Elm St.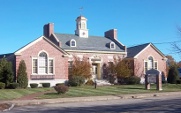 Author Talk
Wednesday, November 2 at 6:30
Local resident Karen Maffeo Creamer has published her first novel, ONE BRAVE THING. She has been a lifelong reader and lover of books, and now she is the author of one! Come hear her read from her book, speak about the creative process, and discuss how she published her book. Read more...
Broadband Technology Resources
Job hunting? Starting a business? In school? Would you like to improve your digital literacy?
Maine State Library Digital Learning offers an array of sites designed to enhance online skills.
Featured Site: LearningExpress has computer and software tutorials, GED test prep, career certification, and job search skills.
Art at the Library
Landscape oil paintings of Sanford native Pauline Bergeron.
Top of Page | Last update: 21 Oct 2016