Bear Facts

Tuesday, September 23 at 6:30
Wildlife biologist Judy Camuso will discuss Maine's bear management program and the science behind the Department of Inland Fisheries and Wildlife stance on Question 1.
Poetry of Marc Widershien
Thursday, September 25 at 6:30
Goodall Library will be hosting Springvale resident Marc Widershien as he reads from his recently published book Maine, a Journeyman's Book — an organic memoir of his experiences in Maine told in verse.
Joseph Campbell, a great writer of things spiritual, has said: Follow your bliss. Find where it is and don't be afraid to follow it. This has been the essence of Widershien's experience here in Maine.
Marc received his literary and musical training in New York and Boston. His other published books are Middle Journeys, The Life of All Worlds, and Poems of Survival. He has made numerous appearances in journals as a poet, essayist, and book reviewer.
Huge Booksale
Saturday, September 27 from 2 to 4
Everything we have available for sale (including our ongoing sale and all back-stock) will be available for purchase. All proceeds directly benefit the library.

Books and Cooks - A Great Combination
HOT OFF THE PRESSES
A NEW cookbook of recipes submitted by Goodall Library staff and patrons.
Pick up a copy at the circulation desk for $10. Proceeds from cookbook sales will help fund programming at the library.
Writing is Discovery: Writing Workshop
Six Saturdays: October 4 – November 8 from 10:30 to 12
Local author Marc Widershien will lead a six-week writing workshop at Goodall Library, with emphasis (but not exclusively) on memoirs, biography, and autobiography. The group is open to all those who wish to acquire new writing skills or improve on the ones they already have.
The curriculum includes "free-writing" (or "stream-of-consciousness"), remembered events, memory books, group discussions, self-editing, exercises on sensory detail, and handouts with examples of noted writers and artists. The objective is the enjoyment of language and its awesome gifts.
Registration is required. FMI call Marc Widershien at 636-0595.
Wine Tasting/Silent Auction
Thursday evening, October 9
Mark your calendar for Goodall Library's annual fundraiser! This year's event has a wide variety of items to bid on including gift baskets, gift certificates, and various unique items from local businesses, artists, and crafters. Entertainment will be provided by The Parson's Project, an acoustic guitar trio from Alfred. Appetizers and desserts, along with a selection of fine wines, will be available.
Food for Fines in October
Goodall Library is offering fine amnesty for the month of October. We will erase your fines when you donate non-perishable food items.
This event is held in conjunction with our annual pre-holiday food drive. The donations will go to the York County Food Pantry.
Hours
10–8 Monday—Thursday
10–5 Friday
10–4 Saturday
Location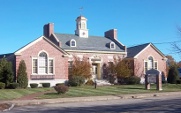 Corner of Main and Elm Streets in downtown Sanford. Parking and entrance on Elm. Map and directions...
Last update: 20 Sep 2014