Broadband Technology Resources
Job hunting? Starting a business? In school? Would you like to improve your digital literacy?
Maine State Library Digital Learning offers an array of sites designed to enhance online skills.
Featured Site: LearningExpress has computer and software tutorials, GED test prep, career certification, and job search skills.
Books and Cooks: A Great Combination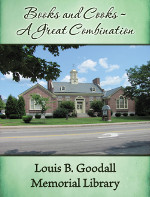 A NEW cookbook of recipes submitted by Goodall Library patrons and staff is now available.
Pick up a copy at the circulation desk for $10. Proceeds will help fund programming at the library.
Spring Fling BOOK SALE
Saturday, April 11 from 10 to 2
There will be something for everyone, and bargains galore. Buy books individually, or purchase a Goodall Library tote-bag for $10.00 and fill it with books...for free! Be sure to stop by and check it out.
Celebrating National Library Week all Month!
National Library Week is April 12–18. In celebration, join us at Goodall Library for events during the entire month of April (including our ever-popular gift basket raffle)! [Read more...]
Invest in Yourself: March 9 to May 19

Next program: Introduction to Meditation
Tuesday, April 7 at 6:30 PM.
Join us for a series of free presentations that will enhance your health and well-being: INVEST IN YOURSELF at Goodall Library.
Topics covered include T'AI CHI, YOGA, MEDITATION, FOOD AS MEDICINE, SIMPLE LIVING, and THOUGHTS OF AN AVERAGE JOE. Click for more info...
Hours
10–8 Monday—Thursday
10–5 Friday
10–4 Saturday
Location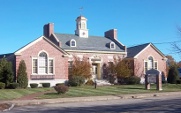 Corner of Main and Elm Streets in downtown Sanford. Parking and entrance on Elm. Map and directions...
Top of Page | Last update: 31 Mar 2015