Through August 9th:
Summer Reading for All Ages
The adult program (for ages 14 to 114) is We all dream of faraway. Explore. Dream. Discover. READ! Each book you read during the program will earn you a ticket for a chance to win our Sanford Readers Basket, including a Kindle e-reader, travel journal, and mug (with Aroma Joe's gift certificate).
The children's program (for ages birth to 13) is FIZZ, BOOM, READ! All reading levels and abilities are invited to join. There are lots of great books and fun activities throughout the summer. Download the activities schedule.
Lobster Raffle Winners!
Thanks to all that bought raffle tickets (which include our loyal patrons), and to the Fundraising Committee and Board of Directors of the L. B. Goodall Memorial Library for selling tickets.
1st place – Karen Binette, 15 lobsters
2nd place – Don and Carol Twombley (pictured), 10 lobsters
3rd place – Debra Downs, 5 lobsters
Hours
10–8 Monday—Thursday
10–5 Friday
10–4 Saturday
Location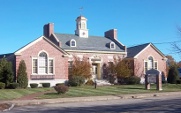 Corner of Main and Elm Streets in downtown Sanford. Parking and entrance on Elm. Map and directions...
Last update: 18 Jul 2014