Broadband Technology Resources
Job hunting? Starting a business? In school? Would you like to improve your digital literacy?
Maine State Library Digital Learning offers an array of sites designed to enhance online skills.
Featured Site: LearningExpress has computer and software tutorials, GED test prep, career certification, and job search skills.
Books and Cooks: A Great Combination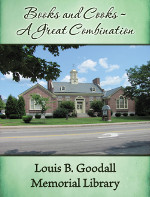 A NEW cookbook of recipes submitted by Goodall Library patrons and staff is now available.
Pick up a copy at the circulation desk for $10. Proceeds will help fund programming at the library.
CLOSED
Monday, April 20
for Patriots Day
Sanford Pop-Up Science Museum,
Thursday, April 23, 2:30-3:30 PM

Looking for something fun and educational for your kids to do over school vacation week?
The talented people from the Sanford Pop-Up Science Art Technology Museum will be at Goodall Library with their highly popular Augmented Reality Sandbox for kids of all ages to explore and interact with. If you have never experienced this before, it is amazing technology at work and a hands-on, interactive & fun experience.
Please join us for an afternoon of science fun!
Celebrating National Library Week all Month!
National Library Week is April 12–18. In celebration, join us at Goodall Library for events during the entire month of April (including our ever-popular...GIFT BASKET RAFFLE)! [Read more...]
Invest in Yourself: March 9 to May 19

Next program: Food as Medicine
Tuesday, April 21 at 6:00 PM.
Join us for a series of free presentations that will enhance your health and well-being: INVEST IN YOURSELF at Goodall Library.
Topics covered include T'AI CHI, YOGA, MEDITATION, FOOD AS MEDICINE, SIMPLE LIVING, and THOUGHTS OF AN AVERAGE JOE.
Local Newspapers Digital Archive
A joint project of Goodall and Springvale libraries - digital scans of the Springvale Advocate and Sanford Tribune from 1895 to 1941 with full-text search capability.
Art at the Library: Ray Levesque
The library is currently exhibiting the photographs of Springvale resident and Sanford Art Association member Ray Levesque.
Hours
CLOSED Monday, April 20 for Patriots Day.
10–8 Monday—Thursday
10–5 Friday
10–4 Saturday
Location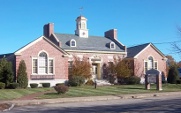 Corner of Main and Elm Streets in downtown Sanford. Parking and entrance on Elm. Map and directions...
Top of Page | Last update: 16 Apr 2015